How to get Pink Lips Naturally with Home Tips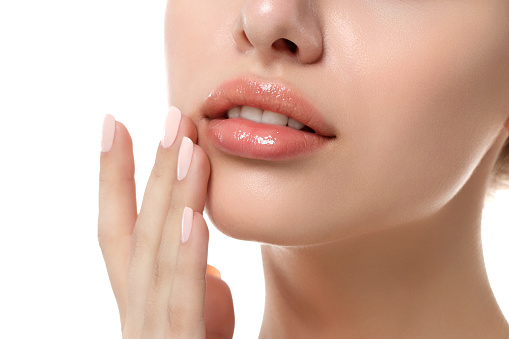 What's the most beautiful thing on your face? It's your smile. A smile is not only about shiny white teeth but also your lips! We're all obsessed with soft, pink lips, but sometimes it's like a dream. Lips are more sensitive than you might think. They can easily influence by our eating habits, bad weather, pollution or many other factors. Our lips deserve special care and attention, just like our skin.
Here are some reasons that can make lips look dark and cracked
Dehydration: The lips do not have sebaceous glands, which help keep the lip hydrated. So you look cracked. You will need to apply petroleum jelly or another lip balm now and then keep your lips hydrated. Another crucial factor in dehydration of the lips is insufficient water intake.
Smoking: Contact with tar and nicotine can make the melanin in the skin and gums dark and sometimes pigmented.
Licking lips: When you lick your lips, the skin dries constantly, and the cycle continues. It leads to the darkening and cracking of the lips.
Using old lipsticks: The old products you use are prone to bacterial growth and may cause reactions.
Tips for getting naturally pink lips
But the request here is how to get pink lips naturally. It is why we present you with simple and effective home remedies for naturally pink and soft lips. All you need are some cooking ingredients, and you are good to go:
Exfoliate your lips regularly: Natural lip scrubs effectively loosen dead skin over the lips and give you softer lips.
Take a teaspoon of sugar and a teaspoon of honey. Mix and massage gently on your lips for 30 seconds. Leave on for 2 minutes and rinse off. Then apply plenty of petroleum jelly or your favorite lip balm. Use this scrub twice a week for the results.
Rose petal powder and milk: Rose petal powder use to lighten the skin for ages. It also works wonders for your lips.
Take 1 teaspoon of rose powder and mix it in 1 tablespoon of milk. Mix them up and apply them as a lip mask. Leave on for 20 minutes. You can use this mask every day. Apply lip balm after rinsing. It will make your lips look nourished, softer, and lightened.
Also Read: Tooth Discolouration- Definition, Causes, Prevention, Treatment
Honey and Turmeric: Turmeric is used in various ubtans to lighten the skin. Honey has moisturizing properties.
Take 1 teaspoon of honey and improve a pinch of turmeric powder to it. Mix them and apply them to your lips. Leave on for 15 minutes and rinse. You can use this 3-4 lip mask in a week. This mask beneficial for pigmented lips.
Use fresh makeup products: Always check the expiration date before purchasing any makeup product and keep checking now and then. Once the product has expired, stop using it. In addition, the use of products containing harsh chemicals can sometimes be harmful to your skin as well as your lips. Switch to all-natural skincare and makeup products.
Aloe vera gel: We all know about the magical things of Aloe vera. It has moisturizing and anti-inflammatory properties.
Take a slice of Aloe Vera and cut it in the middle. Remove the gel with a spoon and store it in a glass container in the refrigerator after adding a few drops of almond oil. Use this gel as your usual lip balm. You will love it.
Drink Enough Water: Drink 8-10 glasses a day to stay hydrated. It prevents your lips and skin from drying out. Your skin looks moist and plump.
Eat right: eat more beets, watermelon, berries and strawberries. They are full of nutrients and offer you more moisture. You can also put on the slices of these fruits on your lips while eating.
You can easily get pink lips naturally with simple home cures. All you need to do is follow the correct method, eat more vegetables and seasonal fruits, and foods rich in antioxidants. The most important is water. A hydrated body reflects off the glowing skin. So, are you ready to get pink lips naturally? Give them additional love and care they deserve, and you will love your lips.